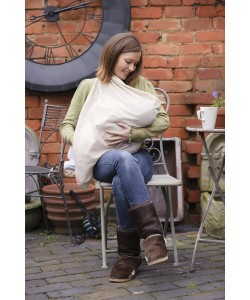 23rd – 29th June is National Breastfeeding Week. Breastfeeding has multiple benefits for both mother and baby, but this doesn't mean you'll necessarily get the hang of it as soon as your baby is born. In fact it can prove a little trickier than you may think at first. But with a bit of perseverance and determination, breastfeeding can soon become second nature to you both and once that nirvana has been reached, you'll not want to stop! Breast milk is the perfect food for your baby – available both on demand and at the right temperature – but it can also be quite daunting for new mothers to know exactly where to begin. That's why it's of paramount importance to look after yourself and to ensure that both you and your baby are involved in both a relaxing and rewarding experience.
Here are a few quick tips to keep your energy and milk levels topped up.
- Ensure you are drinking plenty of fresh and filtered clean water daily – this will help to keep milk levels up and, most importantly, give you and your baby the hydration and energy you need through this demanding time.
- Small but frequent meals are often the best way to keep you active and energised.
- Try and stay relaxed and have feeding stations spread around the house. Place some soaked dried fruits and snacks there for when you need to feed – and always have a fresh glass or bottle of water to hand.
- One of the most of soothing experiences for you and your baby can be to feed your baby lying down on your side. Try this both during the day, as well as at night, as it will give YOU a well-deserved rest as well.
- Massage your mammaries. It is important to regularly massage your breasts – before, during and after feeds. This helps the milk to flow downwards and prevents the ducts from getting blocked. Start from the outside of the breast and move inwards towards the areola and nipple, using small soft circles. Massage under your arm and around the collarbone area as well if this is area is feeling hard.
- Try some baby massage. As well as the physiological benefits for your baby, there are also many benefits for the mother. Baby massage helps stimulate the hormone prolactin in mothers, which helps encourage lactation.
- Most importantly relax. Although breastfeeding can be demanding, learn to go with the flow (pun intended!) and enjoy this precious time with your baby.
As part of the National Breastfeeding Week, baby experts Mothercare are hosting a number of activities both in store and online in conjunction with the Royal College of Midwives. They are also offering some top breastfeeding deals including 'Buy one get one half price on selected nursing bras and tops' and 'Save 1/3 on Innosense breast pump' The offer expires on 2 July 2013 though so you'll need to hurry!